A message from COMBA Executive Director Jason Bertolacci on Colorado Gives Day.
Mountain biking is an important part of my life. It is my tool for exploring the depths of Colorado's mountains, canyons and forests, my way of giving back to our public lands and my adopted family of friends. Outdoor recreation generates $34 billon in economic activity in Colorado and mountain biking plays an important role, not only in that economic activity, but also in the culture and brand of our state.
I'm proud to be a part of Colorado's tribe of mountain bikers. And I am proud of the work COMBA and IMBA have done to enhance and preserve great riding experiences in the state. If mountain biking gives value to your life as it does to mine, please consider supporting the Colorado Mountain Bike Association with your donation today on Colorado Gives Day.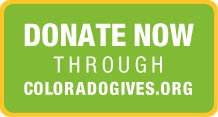 COMBA's volunteers donate thousands of hours each year to trails and bike parks, youth and adult events and local and statewide mountain bike advocacy. Read more about what COMBA has done to earn your support.
Want to do more? Consider volunteering for one of our committees or events, leading the organization as a member of our Board of Directors or challenging a friend to match your donation.
​Sincerely,
Jason Bertolacci
Executive Director​Colorado Mountain Bike Association